mahhal.com
WOW !! Water Balls 💦
Regular price
0.750 KD
Sale price
4.000 KD
Water balloons are awesome, but sometimes filling them and cleaning up after them is not. You could fill a ton of water balloons quickly or you can unleash a new type of water warfare on your opponents!

Reusable Water Bombs fill up with H2O when you dunk them in water and hold that water until they land on your enemy.

Each Water Bomb features a special valve that allows it to fill with water when immersed and automatically seal itself once full. The grenade-like ball's soft skin guarantees it'll explode on contact without injury.

Skip the lines at the hose, and stop worrying about cleaning up tiny pieces of rubber once the fight is finished. A new kind of water weapon is here: the Reusable Water Bomb. Sold in a 3-pack.

Because we receive this item in an assortment of colors, we must sell them randomly. You'll receive a 3-pack of random (but still lovely!) colors.
Features & specs
3-pack of water bombs
Fills automatically when immersed in water
Explodes on impact!
Holds approx. 4 ounces
Reusable
Colors chosen at random
Watch our Reusable Water Bombs video
The future of water battles is here!
Dunk. Throw. Repeat. That's all you need to know when locked in a ferocious Water Bomb skirmish.
Whether you have a bucket of water or your entire battlefield is liquid (like a swimming pool), these reusable water weapons are simple to use. Just put them in your water source, and then it's bombs away.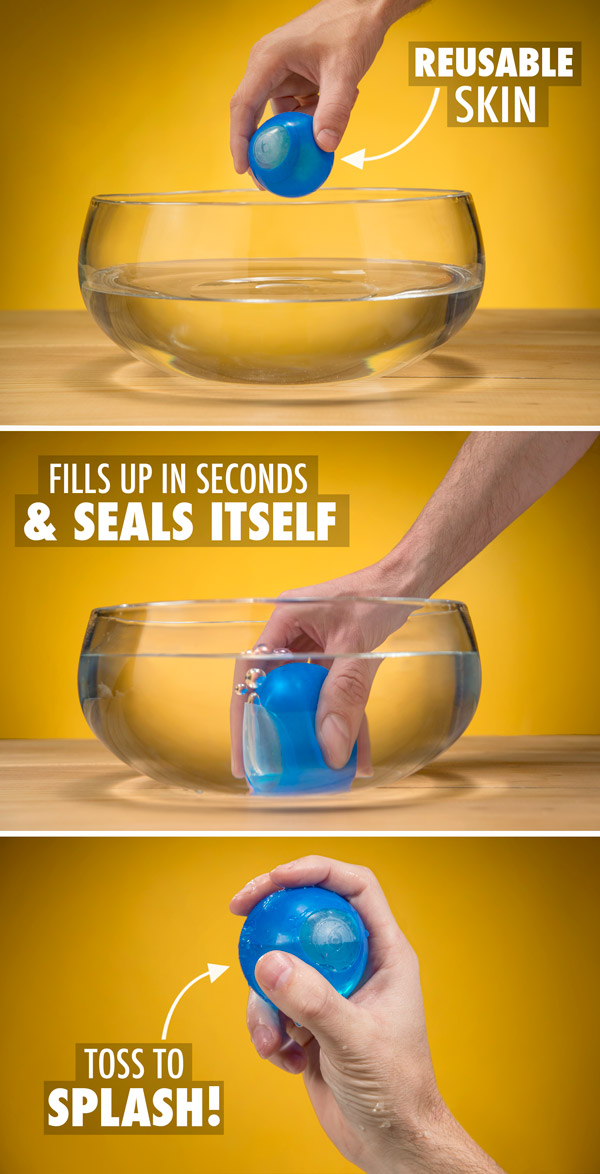 Fill it and fling it!
The only mess is the good kind!
Latex balloons generally don't get cleaned up after an epic water war. They can pollute water sources, and animals can ingest them. Reusable Water Bombs achieve the same drenching effect as a balloon with no mess (except for involuntary hydration).
Flip over this flap
So how in the world can you just fill these things with a simple dunk in water? It's actually very simple; the two flaps open with the pressure of the water, trapping it inside of the bomb.
As you lift the water grenade out of the bucket or pool, the pressure inside of the balloon will now seal the flaps until you throw it at your target.

Super Simple Soaker.
We pick, you throw.
Reuseable Water Bombs come in 6-packs of randomly selected colors, so all you need to worry about is soaking your opponent. You may receive 6-packs of all one color or a mixture of colors.
---